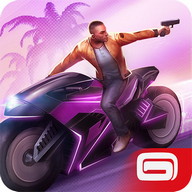 Gangstar Vegas - mafia game
Description
Gangstar Vegas - mafia game Android Game
Be a Vegas gangster, MMA fighting star & racing genius in the #1 crime game.
Gangstar
Vegas
is an action and adventure game in an open world, like Grand Theft Auto, where you control a small time crook who wants to go up a notch in Las Vegas's underworld.
As is to be expected in a sandbox game like this, in
Gangstar
Vegas
you can do almost anything you want on the streets of this city. You can attack any passers-by using all kinds of weapons: machine-guns, shotguns, handguns, and even your own fists. You can also drive all sorts of vehicles, like trucks, police cars, sports cars, and many more.
Besides its excellent graphics,
Gangstar
Vegas
also stands out for the size of the city. Las
Vegas
is nine times larger than previous cities in this series. You can also find many more vehicles, weapons, powers, and mini-games than before, as well as more types of missions. More of everything, really.
The game's main storyline has 80 different missions. You'll have to carry out murders, car chases, and kidnappings; do business deals; and much more. At any time during these missions, you can also ask to be sent more weapons and vehicles, like in Just Cause 2.
Gangstar
Vegas is a third-person action sandbox that's reminiscent in almost all aspects of the latest releases in the GTA franchise. An excellent title, even though it requires a lot of free space on your Android.
NotesRequires at least 2.1 gigabytes of free space on your device's memory
The city of Las Vegas at your feet
Info
Info
Visitor
From: Bangladesh
Phone/Browser: Samsung GT-I8160
Visitor
From: Turkey
Phone/Browser: Android
Visitor
From: United States
Phone/Browser: SM-J110H