Fixing Certificate Errors On Symbian Mobile Phones
If you have a Symbian S60 mobile phone (Nokia N-Series phones like N73, N95, N80, N91, N80 and E-Series phones use Symbian S60v3 as OS) you must have encountered the very common certificate errors like
'Certificate Expired'
or
'Certificate Error. Contact Application Supplier'
while installing software or themes or on your mobile.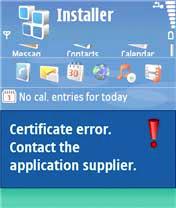 The errors are caused because of the security measures introduced into the new version of Symbian Series 60 mobile operating system disallowing installation of old applications and invalid certificates, however bypassing this security feature and fixing these certificate errors to install software and themes is very easy, simply follow the instructions below:
1- Open you mobile main
Menu
.
2- Navigate to
Settings -> General -> Date and time
3- Now change the year back to 2010 or 2009.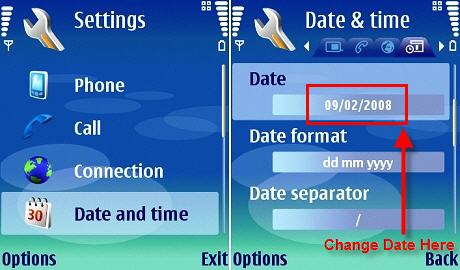 4- Now install the application.
5- Don't forget to change date back to original.
If the above does not solve the problem goto
Application Manager > Options > Settings
and set
"Online Certificate check" = Off and Software Installation = All.
Note:
If you own an older phone you might receive the following error:
"Installation security error. Unable to install"
To solve this error and install application/Theme navigate to
Tools -> Options -> Setting -> Software Installation
and change setting to
On
.
Download your favorite Symbian Apps for FREE from DownloadWAP.com!
Sponsored Links:
Page information:
Download for Symbian OS mobiles - one of the best Symbian Apps. Download app free! You will certainly enjoy its fascinating features. At DownloadWAP.com Free Symbian Apps Store you can download mobile apps for any Symbian OS phones free of charge. With this Symbian app you will not be bored in school or at work. If you install full Symbian app, you'll use it every day and just won't able to tear yourself away from your gadget. Nice and usefull features of this app will keep you captivated for a very long time. At DownloadWAP.com you will find many other apps / games of different genres, from Education and Entertainment to the Security and Navigation Symbian apps. Download free app for mobile phone via PC or Mobile. To get the best apps for Symbian OS mobile phones, top 10 just sort apps by Popularity.
Be the first one to get Free Symbian Apps!
Okay